Frosty The Snowman
Posted on August 21, 2013
It's a winter wonderland, where a snowman comes to life and children find that fairy tales really can come true with the all-new FROSTY THE SNOWMAN.
Watch the Tour Page for Book Signing Events near you!
Celebrating this cherished holiday classic with music and lyrics by Steve Nelson and Jack Rollins, this full-color picture book, adorned with the magical artwork of award-winning illustrator Wade Zahares, features a special gift for the whole family: a CD with three songs performed by a super-cool Grammy award-winning recording artist, Kenny Loggins.
We all know the legendary lyrics: Frosty the snowman was a jolly happy soul, with a corncob pipe and a button nose, and two eyes made out of coal... Now those words we all know and love are part of this wonderful new book. Grammy-winning singer Kenny Loggins and award-winning illustrator Wade Zahares have created a fabulous storybook, beginning with that marvelous snowy day when the town children make Frosty. Everything seems like normal fun—until the kids put a magical silk hat on the snowman's head and he suddenly comes to life, dancing around and delighting all. Together, they laugh, run, and play, having a great time...until the sun comes out. Frosty has to go away, but he promises to come back on another winter's day.
For decades, children have adored "Frosty the Snowman," and now they can listen to (and sing along with) Kenny Loggins' enchanting rendition of the song on the accompanying CD. Embedded in the book cover, the CD also features two bonus songs, "Fishin' Blues" and "Cyndi" — which, like "Frosty," are newly recorded just for this book.
Combined with Zahares' spectacular art, this sparkling version is sure to please "Frosty" fans of all ages. "I am honored to put my own spin on such a beloved holiday classic," says Loggins, "and sincerely hope all enjoy this beautiful book with your children or grandchildren."
Peter Yarrow, the legendary recording artist of Peter, Paul and Mary, and now the head of Peter Yarrow Books, adds, "We're so honored to have Kenny on our imprint, and we know that the fans will love this book and Kenny's rendition of the song."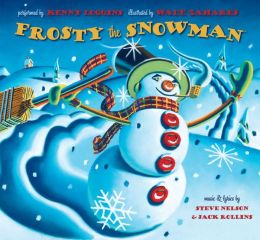 Pre-order NOW at Amazon.com for shipping around November 1, 2013!